Celebrating the career of Dr. David Procter
Dr. David Procter, co-founder of the Rural Grocery Initiative and professor of Communications Studies at Kansas State University, has retired after over 30 years at K-State. Dr. Procter left an indelible mark on the field of rural grocery across the country.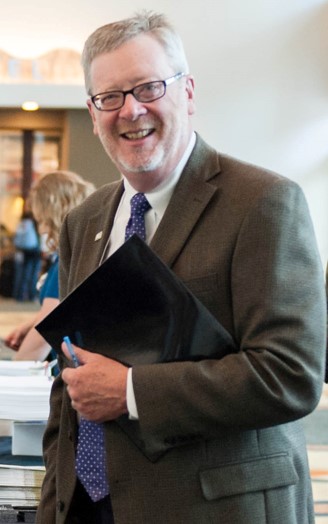 An excerpt from a K-State Today article on Dr. Procter's distinguished career:
Procter received his bachelor's and master's degrees from Kansas State University and his doctorate from the University of Nebraska. During his tenure at K-State, Procter has served in many roles, including teacher, researcher, department head for the communication studies department and director of the Center for Engagement and Community Development. Since arriving at K-State in 1987, he has worked in partnership with communities across the state. He has worked on issues of school consolidation, community strategic planning, heritage museum education, facilitation of community dialogue and strategies for supporting rural grocery stores and communities.
As director of the Center for Engagement and Community Development, Procter led the university through the rigorous process of applying for the Carnegie Classification for University Engagement twice. Procter served on the leadership for the Engagement Scholarship Consortium and facilitated community-engaged research partnerships between K-State and the needs of Kansas communities.
In 2007, Procter co-founded the Rural Grocery Initiative to identify challenges faced by rural grocery stores and develop evidence-based responses to those challenges. Since then, Procter has become known as a national expert in the field of rural food access and rural grocery sustainability. He has presented his award-winning work at national and international conferences, and at briefings before the U.S. House and U.S. Senate Hunger caucuses. Procter has been featured in countless national news stories, from National Public Radio to the New York Times.